Coffee & Espresso
We know what it means to have a great donut paired with a great cup of coffee so we teamed up with two of the best vendors out there to make sure you get to experience a fresh, quality coffee drink.
Our coffee and espresso comes from Caffé D'arte, an award-winning roaster who strives "to elevate the enjoyment and experience of Italian traditional artisan coffee." And we get our hormone-free milk from Smith Brothers Farms who makes it a point to have "the freshest milk you can serve your family."
This one-two combo is the real deal. Come in and try for yourself!
Please take a look at our menu below for the drinks we offer!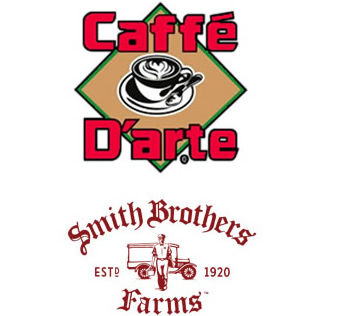 | Drip Coffee | 8 Oz | 12 Oz | 16 Oz |
| --- | --- | --- | --- |
| The Meaning Of Life | $1.40 | $1.70 | $1.90 |
| Hot Drinks | 8 Oz | 12 Oz | 16 Oz |
| --- | --- | --- | --- |
| Latte | $2.50 | $2.80 | $3.10 |
| Mocha | $3.10 | $3.50 | $3.90 |
| White Mocha | $3.10 | $3.50 | $3.90 |
| Caramel Latte | $3.10 | $3.50 | $3.90 |
| Americano | $2.10 | $2.30 | $2.50 |
| Chai | $2.50 | $2.80 | $3.10 |
| Hot Cocoa | $1.80 | $2.20 | $2.60 |
| Hot Tea | $1.40 | $1.70 | $1.90 |
| Iced Drinks | 12 Oz | 16 Oz | 20 Oz |
| --- | --- | --- | --- |
| Iced Latte | $2.80 | $3.10 | $3.90 |
| Iced Mocha | $3.50 | $3.90 | $4.90 |
| Iced White Mocha | $3.50 | $3.90 | $4.90 |
| Iced Caramel Latte | $3.50 | $3.90 | $4.90 |
| Iced Americano | $2.30 | $2.50 | $2.90 |
| Iced Chai | $2.80 | $3.10 | $3.90 |
Doppio (2 shots of espresso) for $1.60
Add A Flavor 50¢
Vanilla
Sugar-Free Vanilla
Hazelnut
Sugar-Free Hazelnut
Irish Cream
Salted Caramel
Butter Pecan
Coconut
Almond
Pumpkin Pie
Gingerbread
Peppermint
Dark Chocolate
Caramel
Raspberry
Cherry
Blackberry
Orange
Add For 70¢