More Breakfast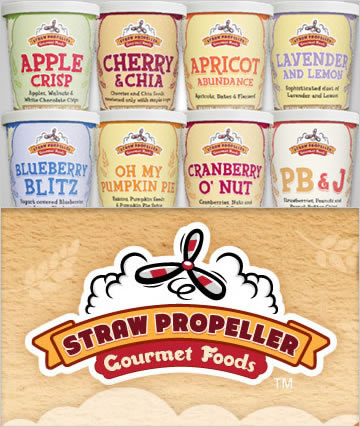 Kolaches — $1.75 a piece
Kolaches are traditionally a Polish fruit filled pastry, but folks down in Texas as well as other places started replacing the fruit with meats and cheeses. We had to bring these delicious little things to Redmond, WA after we found out few people had heard of them.
Currently, we only have two options of kolaches, but we use quality sausage and cheese to make up for the lack of variety. As of now we have a smoked sausage and cheddar kolache and the other option has the same smoked sausage and cheddar with jalapeño thrown in.
Oatmeal — $3.49 plus tax
When we went to the 2012 Seattle Coffee Fest we were wanting to add something that would be a healthier breakfast option and came across

STRAW PROPELLER GOURMET FOODS

. We were blown away with how good the oatmeal was and signed up immediately to start getting these in our shop.
We carry both their gourmet oatmeal and their gourmet muesli in a variety of wonderful flavors. So if you're looking for a more healthy (some are even gluten-free) option to breakfast, these are definitely worth checking out.